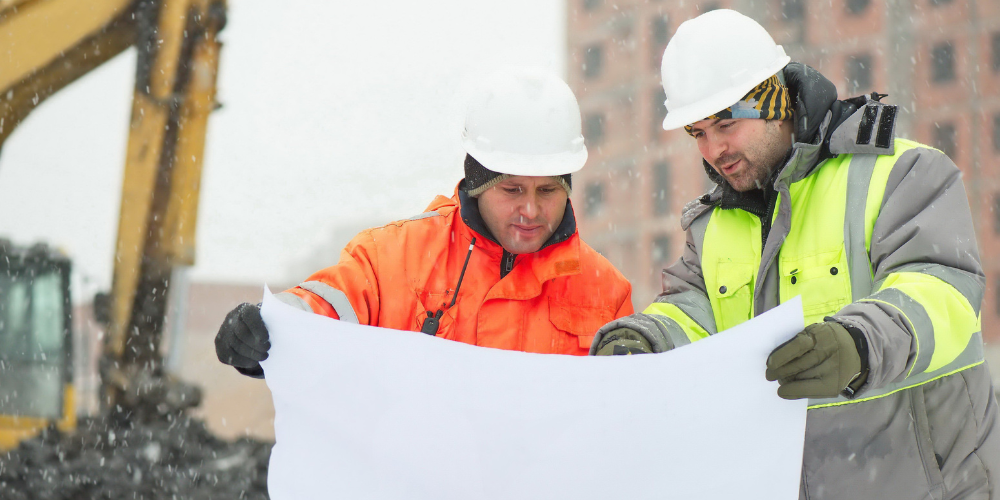 Demonstrating good health and safety during the winter period will create a safe working place and allow staff to go home to their families well. Having the necessary steps in place for staff becomes even more important during winter, as worsened conditions can lead to many increased work-related risks, such as slips, trips and falls.
Download our Slips, Trips and Falls poster which contains practical tips.
If you have outdoor workers, you'll need to take care at work this winter. When temperatures fall to below freezing this can have a serious impact on someone's health. Therefore, appropriate measures need to be put in place to ensure the safety of staff. You need to plan ahead and manage the risks to avoid accidents where possible.
Here are our tips to help stay safe in winter conditions:
Wear Suitable Clothes and PPE
This is one of the most important precautions to reducing cold stress. It is best to wear three or more layers of clothes and you should also use layering to protect your feet, hands and head. Remember to always make sure your high vis is the outer layer.
Education
Educate your employees on cold-related stress symptoms, for example, severe fatigue, drowsiness, uncomfortable coldness and heavy shivering. They also need to understand cold related illnesses like hypothermia, frostbite and trench foot. Informing your employees of these conditions goes a long way towards the prevention of such illnesses.
Working Together
Work in pairs, when working in extreme weather conditions, this will allow you to monitor each other and obtain help quickly in the event of an emergency.
Periodic Breaks
Warm-up schedules should be used if required to provide periodic times for warm-up breaks. As the wind velocity increases and/or the temperature drops then additional breaks should be provided.
Always Drink Plenty of Fluid
Keeping well hydrated during winter ensures that the barriers used to protect your body from colds and flu are fully functional.
Controls
Engineering controls can be effective, for example, using heaters in areas where practical, shielding work areas from winds and drafts, and using insulating material on metal handles.
Calories
Increase calorie intake when working in cold environments. Workers in cold environments who wear heavy, protective clothing expend more heat and so require 10-15% more calories.
Here are three simple solutions you can take to protect your workforce and business this winter:
Use THSP's Risk Assessment Builder to create bespoke, task-based assessments to reduce the likelihood of accidents caused by manual handling.
Book a Manual Handling training course to teach your workers what is meant by safe manual handling.
Book a Site Inspection to help you identify where there may be issues, not only with manual handling but all aspects of health and safety on your site.
Book a quick chat to see how we can help with your health and safety.