What is a risk assessment?
A risk assessment is the process by which you consider how dangerous something is and what you need to do to prevent or minimise the harm.
They are a legal requirement under the Management of Health and Safety at Work Regulations 1999, and if produced and used well, prevent harm and protect your people and business.
Risk assessments for safe working.
Those responsible for ensuring the safety of their colleagues will always be looking for ways to simplify their tasks, but equally, want to know that what they have produced takes steps to eliminate or avoid workplace hazards.
THSP's Risk Assessment Builder.
THSP has developed an interactive risk assessment builder tool to take the stress out of completing these safety-critical documents.
With over a million outcomes available using the tool, you can be sure that the assessment you create is bespoke to your activities and circumstances.
No more repetitive control measures across sheets of assessments for manual handling, working at height, PPE, etc. Just one bespoke, task-based assessment, with intuitive and comprehensive control measure selection, saving you time and reducing the likelihood of accidents.
Book a demo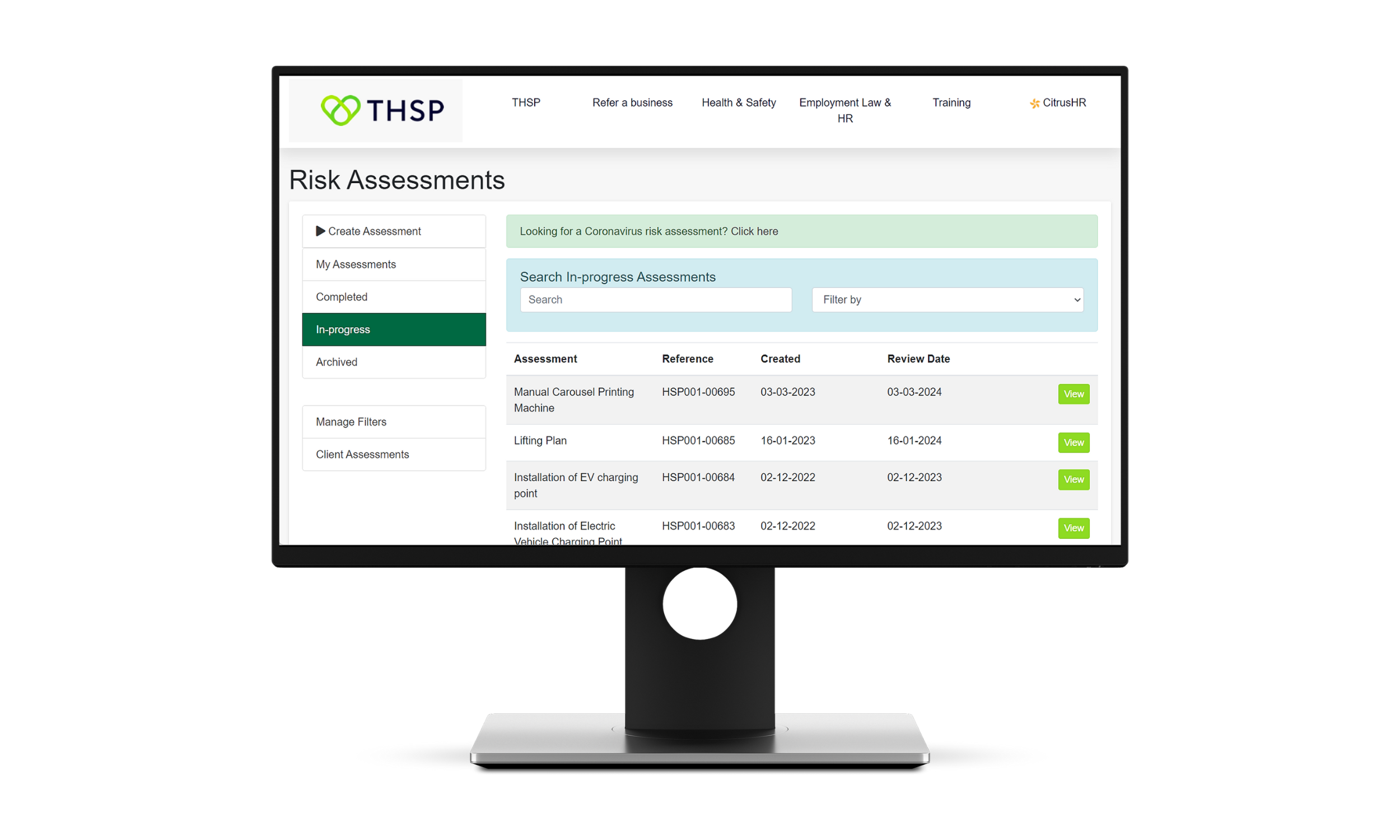 How does it work?
With an easy step-by-step process that guides the assessor through each stage of the assessment and intuitive selection processes, the result is a comprehensive, accurate assessment of the task at hand.
It satisfies your clients as well as demonstrating legal compliance.
Use in conjunction with THSP's COSHH Assessment Builder.
THSP's COSHH Assessment Builder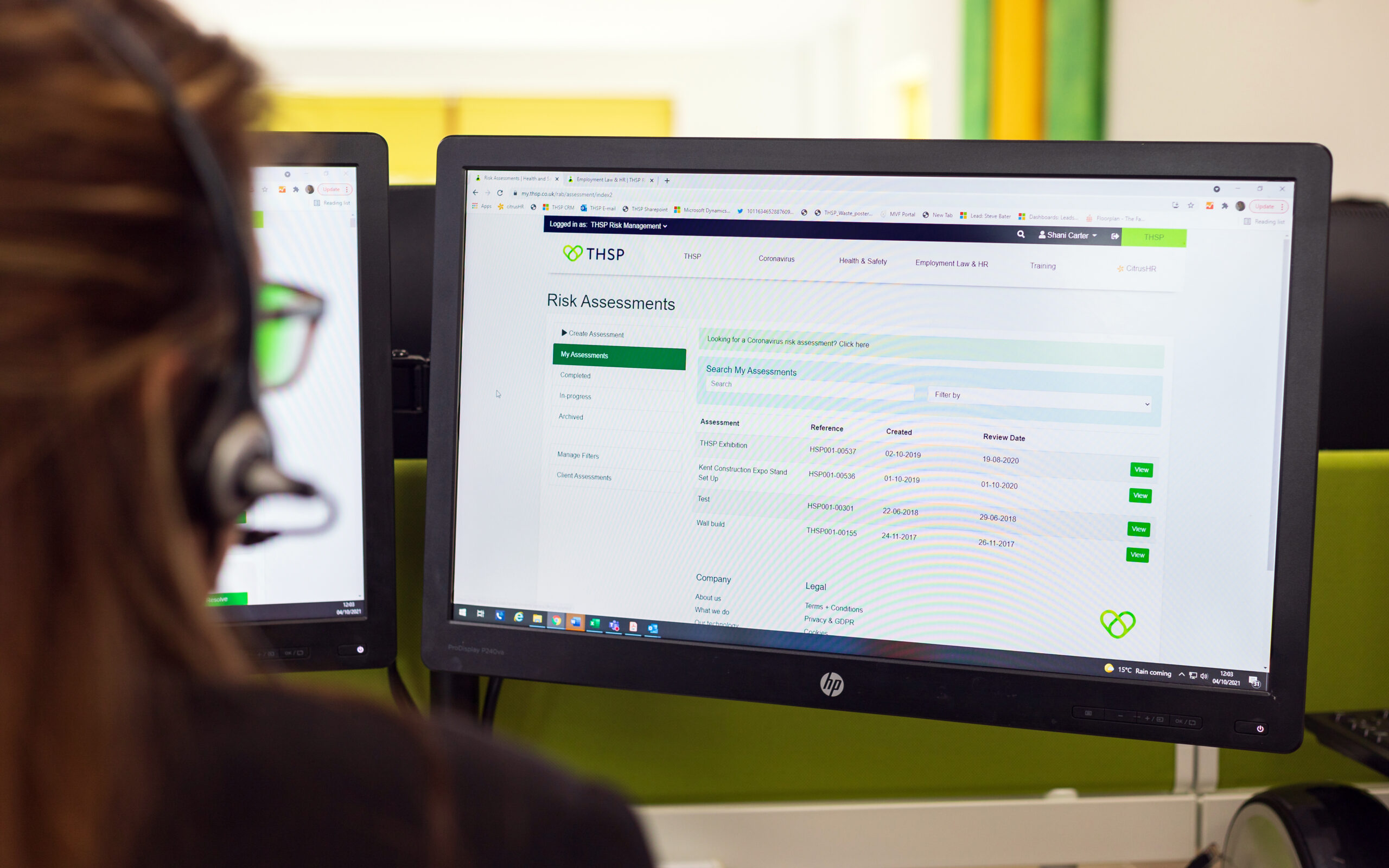 What it can do for you
Intuitive by design


The Risk Assessment Builder (RAB) recommends control measures based on your identified risks.

Flexible


If control measures need amending, you can change them or add your own.

Accessibility


Access your risk assessments from anywhere with internet access.
PPE Selector


Includes PPE types and specifications with pictures.


Adaptability


It's quick and easy to duplicate, edit or update your assessments to reflect changes to location and processes without having to repeat the process from the beginning.
Who's it for?
If you have responsibility for creating Risk Assessments for your business, this software is designed for you.
The interactive tool is available for free to all of our Health and Safety outsourced customers as part of their service, but licences can also be bought separately for £500+VAT for a 5-user licence.
Consultant assistance.
THSP's consultants can work with you to ensure the significant hazards are identified and the resulting risks are reduced to appropriate levels.
Using our Risk Assessment Builder tool, we create assessments which follow the HSE's five steps guidance and communicate the dangers and steps needed to reduce the likelihood and/or severity of any potential harm.
Testimonial:
Got me bigger contracts
The benefits have been huge. I now walk straight into negotiation on all manner of groundworks and construction projects up to the region of a million pounds in value.
Testimonial:
A strong sounding board
THSP provide a strong sounding board backed by a great knowledge. We have no reservation to recommending THSP to any other business within the manufacturing environment, or otherwise.
Testimonial:
When we use the Risk Assessment Builder...
...it is up-to-date and covers more risks, rather than the historic generic ones
Try it for yourself.
Since its launch, over 27,000 risk assessments have been created using the Risk Assessment Builder. If you would like more information on how the tool could benefit you, book a demo with one of our team to start your free trial.
Book a demo