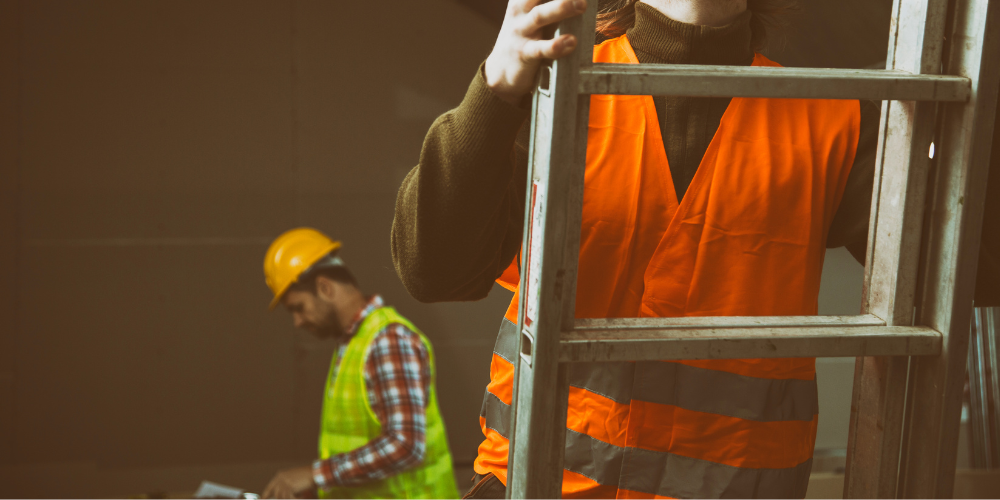 By keeping your staff safe when working at height, you will not only prevent them from injury, but also contribute to creating more positive statistics around falling from height. These are accidents that can be avoided if good health and safety practices are followed, leaving your people feeling valued and safe in the workplace.
What is working at height?
'Working at height' refers to work that involves a risk of falling and injury. This is work where, if measures required by these Regulations were not taken, a person could fall a distance liable to cause personal injury. Common cases of fatalities and injuries include falls from ladders and through fragile surfaces.
A person is considered to be working from height if there is the possibility of falling and injury. It doesn't matter how high you are. In fact, 60% of accidents from falls that result in major injury are from heights below 2 metres.
Working at height regulations are designed to prevent falls and injuries in the workplace in order to keep workers safe.
How can I keep safe working at height?
Here are some simple, practical measures to reduce the risk of workers falling while working at height:
Control measures are required to assess the risks. Factors to consider include the height of the task, the duration and the frequency, as well as other environmental conditions such as floor condition, weather conditions and accessibility. THSP's Risk Assessment Builder creates bespoke, task-based assessments to reduce the likelihood of accidents caused by manual handling.
Select work at height equipment in accordance with the 'work at height Hierarchy of control'.
Minimise the distance and consequences of a fall by using the right type of equipment for working at height.
Ensure workers wear appropriate Personal Protective Equipment (PPE).
Book a Site Inspection to look at your arrangements for keeping people safe and discover where you need to improve.
Utilise the working at height safety training provided by employers.
What training can my employer provide for working at height?
Training courses can help ensure both the employer and employee understand the precautions needed to keep those working at height safe. THSP's Working at Heights training course benefits anyone who manages work at height activities and those individuals who work at height as part of their job.
Here's some of the things you will learn:
An understanding of the legislative requirements for working at height
The knowledge to identify the hazards of working at height and outline the requirements to control them
The ability to explain what safe working procedures are and the reasons for using PPE
How to select the correct PPE for the task and be able to identify how and when it should be maintained
Book a quick chat with us to see how we can help you keep safe while working at height.