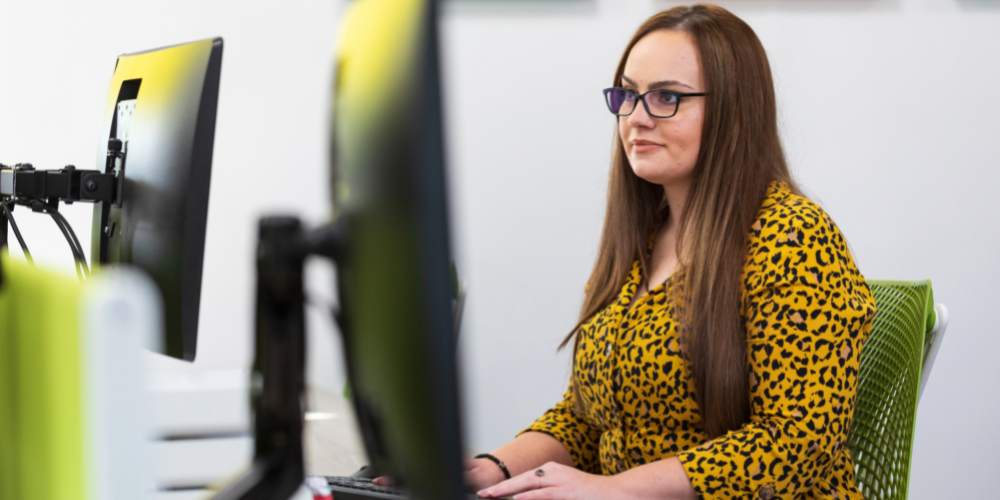 Sometimes taking a step back and managing the little things at work can make the biggest difference. Given most office workers are likely to be at their desk for at least 35-40 hours each week, a worker's set up should be something taken care of.
Understanding the importance of correct Display Screen Equipment (DSE) practice is beneficial in many ways. By making people aware of the potential problems of poor workstation habits, small changes can effectively prevent workers feeling discomfort.
The saying of 'prevention over cure' is very relevant here. Minor adjustments in working postures can cause a significant improvement on staff wellbeing and productivity.
What are the DSE regulations?
Anybody who regularly uses display screen equipment is legally required to undertake DSE Training. Technically, a worker qualifies as a DSE user if they use DSE daily for an hour or more at a time. Employers of DSE users have an obligation to comply with The Health and Safety (Display Screen Equipment) Regulations 1992.
The Health & Safety Executive (HSE) implemented this with the aim to reduce risks from prolonged DSE use. A well-designed workstation can prevent numerous neck, shoulder, back, arm, wrist and hand pains, as well as fatigue and eye strain. All of these injuries can lead to staff absentees which negatively affects your workplace.
What is the purpose of DSE Training?
The main objective of DSE Training is so that a person's work set up ensures they achieve the best possible posture while working. This is relevant in the office or at home. Having this in place minimises strain on the body and reduces the risk of pain or injury.
Therefore, undertaking training can help your employees within an organisation avoid injuries in the workplace. Effective DSE training is inexpensive and doesn't take long to complete.
Employers are encouraged to speak with their staff to discuss their workstation set up. They should ask if they have any discomfort or issues and assist this with controls that are practical.
What are the benefits of DSE Training?
Understanding the importance of posture while working and having an appropriate work set up will contribute to the overall wellbeing of workers.
By minimising the risk of injury through poor work habits, employees will feel physically happier and able in their role. This will, in turn, lead to less staff absents as a result of injury from poor working environments.
So, providing effective DSE Training also makes financial sense too. It's estimated that a huge 9 million working days were lost in 2019/20 due to musculoskeletal disorders! That's 18.4 days on average for each person suffering.
You can download your Workstation Assessments poster here, which contains a list of practical tips to instantly help your work set up.
THSP's DSE Training course helps to ensure that your employees understand how to properly take care of their health whilst at work by ensuring that their immediate working environment is at its best.
What you will learn:
How to set up your workstation correctly and stop bad habits
How to use portable devices (included in DSE) correctly
Prevent 'DSE Stress' and become more productive at work as a result of good DSE.
Who is the DSE course for?
Businesses needing to train their staff in DSE and Workstation Health and Safety
Anyone who wants to learn more about how to manage the risks associated with DSE and their Workstation
During November, you can get 10% off our DSE Training course!
You can sign up for the course here, or give us a call on 03456 122 144 to discuss this or any other health and safety matter.