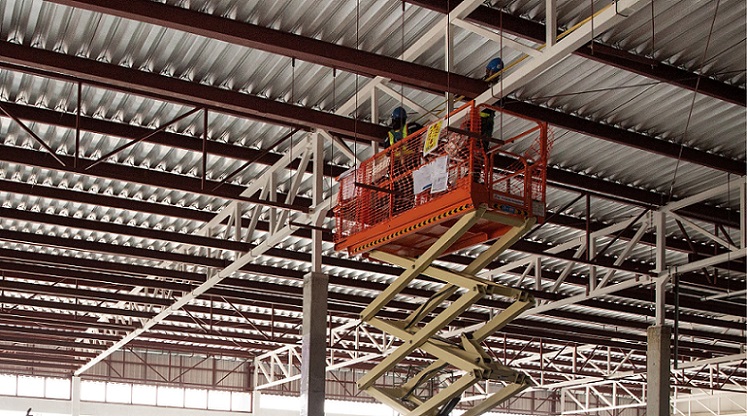 The Plant Safety Group have issued a good practice guidance for reducing trapping/crushing injuries to people in Mobile Elevating Work Platforms (MEWPs). The use of MEWPs has increased, and they have been recognised for their benefits for productivity and safety.
What is the latest guidance?
MEWPs are accepted as one of the safest and most efficient means of enabling temporary working at height. The purpose of the Plant Safety Group's document is to provide information and good-practice guidance in order to reduce exposure to trapping and crushing hazards while using a MEWP.
The aim is to reduce the risk and frequency of entrapment incidents. It provides guidance on planning, risk assessment, MEWP selection, operator training, familiarisation, and rescue of occupants in the platform.
Trapping, crushing and MEWPs:
Between the years 2016 – 2020, the IPAF accident reporting portal identified that 73 people have died due to entrapment incidents. Injuries from MEWP platforms are often serious and even fatal. Entrapment hazards need to be suitably addressed to prevent person being trapped or crushed, and to help lower the number of fatalities from this piece of equipment.
You must select the most appropriate MEWP and make sure that use of the machine is both properly planned and managed. Operator instruction and training are two very important requirements. Undertaking these will ensure that you are minimising the risk of injury to workers and doing all you can to keep them safe while at work.
Key parts of the guidance:
The user of a MEWP needs to demonstrate that the following matters have been adequately considered.
Selection and fitting of secondary guarding devices to MEWPs: Where the task-specific risk assessment indicates that the fitting of secondary-guarding devices may overall reduce the risk of entrapment during the task. User should ensure that full consideration is given to both the positive and negative health and safety effects of fitting the device and any legal considerations.
A secondary-guarding device should only be fitted to a MEWP where it reduces the entrapment risks identified and it will not:

Increase the consequences of injury should entrapment occur;
Create new or additional risks that outweigh the entrapment risks addressed (taking account of all the ways in which the MEWP is used including areas where entrapment risks are not present).

Rescue Plans: The need to have an Emergency and Rescue plan when working at height is a legal requirement under UK legislation. It is also considered good practice by IPAF and other organisations for all regions as an effective method of managing risks when working at height.
Action you can take:
Our IPAF training will benefit anyone who has to operate and use mobile elevated work platforms plus any supervisors or managers overseeing this operation. The training provides selected operatives with the knowledge and skills to operate mobile elevated work platforms safely and efficiently.
What you will learn on the course:
The knowledge to state the safety precautions applicable to the equipment
How to carry out operator maintenance and inspections correctly
How to drive and position the equipment accurately within the equipment's operating envelope
It is important to note that the Plant Safety Group document is not intended to provide complete guidance on all aspects of MEWP operation and safety. Rather, it should be used in conjunction with other relevant regulations, statutory guidelines, industry guidance, and codes of practice.
You can download the guide in full here.
Book THSP's IPAF training course now which covers two powered access products: Mobile Vertical (3a) and Mobile Boom (3b).
We can offer this 1-day course at centres all over the UK or at your chosen premises with prices starting at £240+VATpp.